Body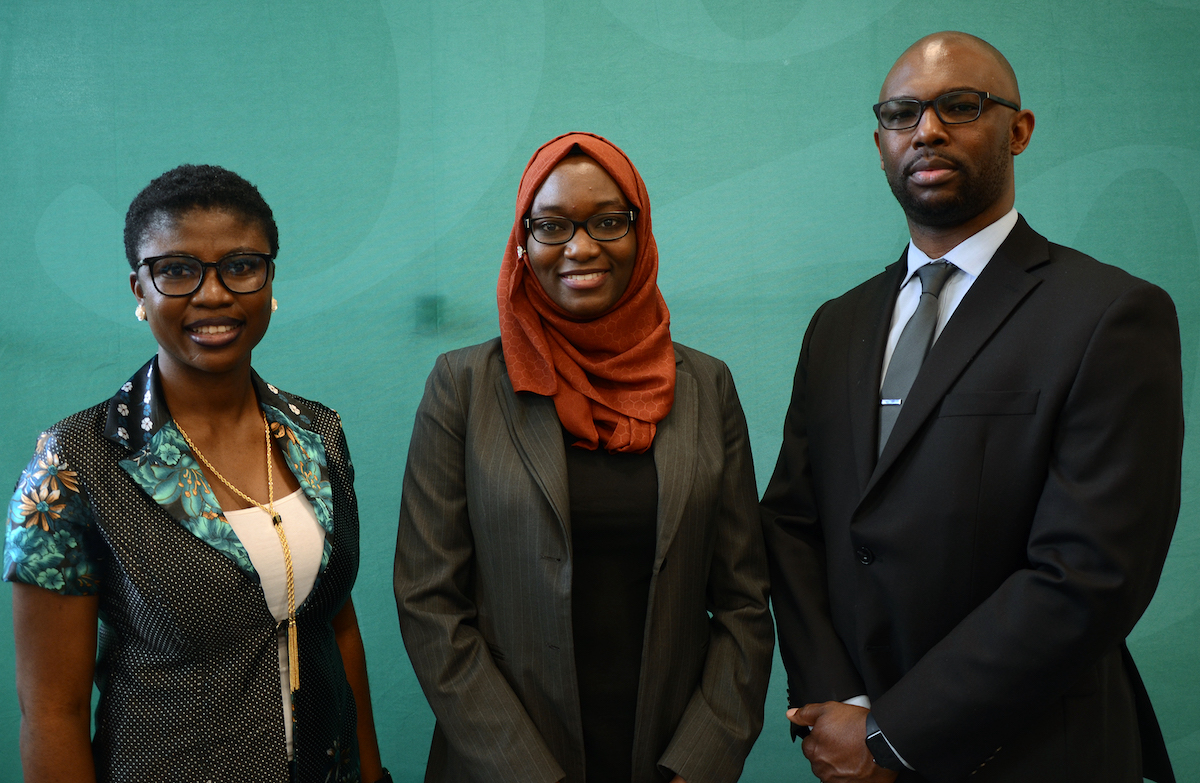 George Mason University's Three-Minute Thesis (3MT®) competition challenges graduate students to present their dissertation or thesis research in just three minutes with the help of one visual aid.
Eleven Mason students took the challenge following the Mason Graduate Interdisciplinary Conference on April 8.
First place, and $1,000, went to Randy Jamil Pugh, a PhD candidate in the Department of Rehabilitation Science at Mason's College of Health and Human Services.
His presentation, "The Effect of Overground Locomotor Training on Walking Turns in Parkinson's Disease," was one piece of a larger Department of Rehabilitation Science research project. 
Though Pugh said the process of doing the research and condensing it into a three-minute talk that was relatable to people outside his department was "a joy," there was a broader goal.
"It's not just to do the research and come up with these amazing findings in the lab," he said, "but to get our findings out there and connect with people in our department as well as across disciplines to make a real-world impact." 
The interdisciplinary approach to this competition was very important, Pugh said.
"Seeing and hearing different points of view and putting those different knowledge spaces together to help people with Parkinson's disease and how they walk is really exciting," he said.
Adebanke Loveth Adebayo, who received $500 for her third-place presentation of her research on "The Sociocultural Perception of Climate Change and Its Effects on Maternal and Prenatal Health Outcomes Among Nigerian Women in West Africa," said the competition was challenging.
"It's really hard to fit everything that you've been doing for the last couple of months or years into three minutes, so it takes a lot of patience with yourself to realize the essential piece the audience needs to know," she said.
That's why Aisha Yusuf, awarded $750 for second place, participated in the George Mason University Toastmasters Club, in order to learn and practice communication and leadership skills.
"Being a member has really helped me when it comes to speaking to audiences, working on my vocal variety, and body language. I used the lessons I learned from Toastmasters to practice for my presentation," Yusuf said. 
Yusuf said her research on "Ethnic Identity and the Prevalence of Female Genital Mutilation (FGM) in Africa" is significant, as more than 200 million women and girls have undergone genital mutilation. Doing the research and putting it out there will create more awareness about the problem and how to solve it, she said.
"Eliminating FGM is also part of the United Nations Sustainable Development Goals in promoting gender equality, so disseminating the research for people to see and learn from will help make the world a better place," Yusuf said.
The competition was hosted by the Office of the Provost, and the four judges featured a combination of community professionals and Mason faculty and staff.
"The Three-Minute Thesis competition helps every student who enters, not just the winners, learn to share the significance of their work with the public," said Bethany Usher, Mason's associate provost for undergraduate education and a judge at this year's competition. "Communicating their research to a general audience is a valuable skill that will help them get jobs, convince people to fund them, and entertain relatives at Thanksgiving. For many students, it's also a chance to step back and see their work from a different perspective, giving them renewed confidence in what they are accomplishing."
The 3MT competition originated in 2008 at Australia's University of Queensland. Mason's competition joins those at more than 900 universities across 85 countries.
Topics