Body
357 nonperishable food items and cleaning supplies were donated to local families in need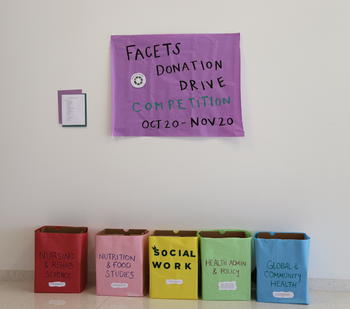 Members of the Master of Social Work Student Association (MSWSA) honored survivors of domestic violence during National Domestic Violence Awareness Month by organizing a donation drive competition. The month-long college-wide donation drive collected approximately 357 items across the College of Health and Human Service's (CHHS) five departments, a testament to the CHHS community's commitment to helping those in need.
Kendall Hunter, president of MSWSA, was motivated to organize the donation drive because many survivors of domestic violence experience financial and housing instability, which also impacts children who live in households with domestic violence and may need to relocate with a parent who is seeking safety.
Hunter said, "Through our studies, social work students have learned about the intersection between domestic violence, homelessness/housing instability, and financial instability. The MSWSA also recognizes the impact domestic violence has on children's emotional well-being, social functioning, and academic functioning." 
Each CHHS department participated in the competition to collect the most nonperishable food items and cleaning supplies for FACETS, a Fairfax nonprofit organization that provides services to families, such as food, emergency shelter, medical care, and safe housing. MSWSA set up labeled donation bins in the lobby of Peterson Hall so participants could conveniently donate items for their department as they walk to class. 
Thank you to MSWSA for organizing the donation drive and to the students, faculty, and staff who have participated in the competition to support survivors of domestic violence.
"I am moved by our students launching a competition in support of providing food and supplies for those most in need in our communities," said Dean Germaine Louis.
Results of the Donation Drive Competition
School of Nursing & Department of Rehabilitation Science - 103 items donated, in addition to a $25 Amazon gift card

Department of Social Work - 83 items donated

Department of Nutrition & Food Studies - 64 items donated

Department of Global & Community Health - 57 items donated

Department of Health Administration & Policy - 50 items donated