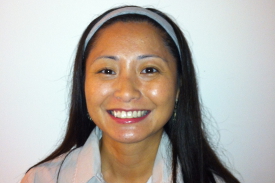 Dr. To-Alemanji's research interest is focused on concussion management as it relates to the vestibular system.
Dr. To-Alemanji graduated from Virginia Commonwealth University with a BS in Health Education and was accepted into Marymount University's respected Physical Therapy Graduate program, where she obtained her MSPT and most recently, her transitional Doctor of Physical Therapy degree.
Over the years, in addition to being a clinician, Dr. To-Alemanji has enjoyed the challenge of educating young professionals in the Physical Therapy profession through her work as an adjunct professor at Marymount University and Howard University. As a clinician, Dr. To-Alemanji saw the gap that occurred between research and clinical practice and as a result decided to pursue a PHD degree at George Mason University to broaden her knowledge about Rehabilitation Science. Dr. To-Alemanji plans to bridge the gap between scientists and clinicians and plans to integrate her research knowledge into clinical practice.